CHICAGO—"Don Carlos" is considered by many opera lovers to be Verdi's greatest work, and for good reason. In this opera, the legendary Italian composer, always a moral realist, psychoanalyzes larger-than-life characters, exposes their motivations, and delves into the conflict between their personal responsibility and society's expectations.
Verdi juxtaposes politics, history and personal drama, while providing a sweeping canvas of 16th-century Spain that makes "Don Carlos" the most powerful and profound of all his operas.
The themes of "Don Carlos" revolve around love versus duty, the conflict between a father and his son, the revenge of a despised love, frustrated ambition, and all of these emotional issues are intertwined in the struggle of a country for independence, a theme that greatly appealed to Verdi, a great supporter of independence from Italy.
Of course, it's not just the historical focus and Shakespeare-sized characters that make this a fascinating work. It's also because it has some of Verdi's most inspiring and intense musical scores.
Now the Lyric Opera of Chicago presents the epic musical drama in a triumphant production that is presented as Verdi intended. The Lyric featured Don Carlos in 1996, but that production was an Italian language version in four acts. In this revival, the Lyric presents Verdi's five-act final revision opera of 1886 in its original French, a difficult feat which explains why it is rarely staged.
Fictional story, real characters
Based on a play by German author Friedrich Schiller (1759-1805), "Don Carlos" premiered in Paris in 1867. Against the backdrop of the Spanish Inquisition and the revolt of the Netherlands against Spain, the story is fictional but the characters are real historical figures.
The story revolves around the forced marriage of Elisabeth, the daughter of the King of France, with Philip II, the King of Spain, in order to bring the two countries closer together. We discover at the beginning of the opera that Elisabeth was in love with Don Carlos before being forced to marry Philippe, who is Don Carlos's father.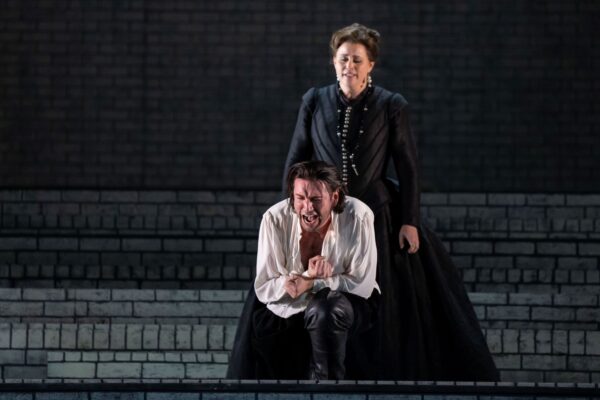 Of course, credit for the compelling musical score, as well as its thematic focus, must go to Verdi. He used his opera to express his own political sentiments. The characters of the king and the inquisitor testify to his contempt for the abuse of power.
But some kudos for the poignant force of Lyric's production are due to the original direction of Sir David McVicar. It was he who revived Verdi's five-act original for the Metropolitan Opera and created powerful scenic images, which have now been revived for the Lyric by director Axel Weidauer.
Vibrant singers
Another reason for the opera's success is the compelling ensemble of performers. Tenor Joshua Guerrero provides strong vocalization and presence as Don Carlos, portraying the man in the midst of emotional upheaval and violent passion. Equally expressive and compelling is velvety-voiced baritone Igor Golovatenko as Rodrigue, Don Carlos' friend.
Dimitri Belosselskiy portrays Philip, the King of Spain, with a palpable bass that encompasses sad despair at his aging and the loveless union of a politically convenient marriage. Plus, Soloman Howard delivers deep-throated bass as the Grand Inquisitor in a chilling scene in which he uses his power to bend the ruler to his will.
The highlights of the performances, however, are those of mezzo-soprano Clémentine Margaine as Eboli and Rachel Willis-Sorenson as Elisabeth. Margaine is a marvelous court lady who turns against Elisabeth and, feeling rejected by Carlos, the man she loves, is driven to take revenge on him. His sizzling solo in Act V is a show stopper. And Willis-Sorenson is emotionally expressive and fascinating as a woman plagued by depression because she lacks control over her life and has to comply with the wishes of others.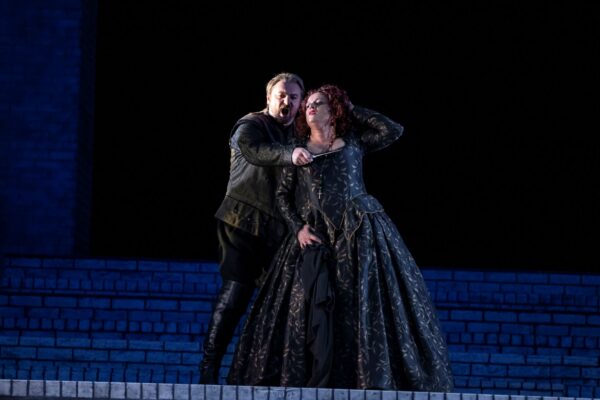 Additionally, the opera is blessed with fantastic energy and excitement by musical director Enrique Mazzola, who brought out the best in Lyric's outstanding orchestra. The production was also enhanced by Brigitte Reiffenstuel's evocative period costumes, a moving chorus led by choir director Michael Black and Robert Jones' imposing stage column which serves as a backdrop for a garden, a prison and the king's chambers.
There is only one downside to this superb lyrical production. It's almost four hours, but if you don't have a faint heart, "Don Carlos" is worth every glorious minute.
"Don Carlos"
Chicago Lyric Opera
20 N. Wacker Dr., Chicago
Tickets: 312-827-5600 or visit LyricOpera.org
Duration: 3 hours, 50 minutes
Closing: Nov. 25, 2022