Content of the article
Call it Teenage challenge, spirit or heartbreak, but this iconic Canadian punk band walks in the face of tragedy.
Content of the article
Flying onstage in the tradition of the "lost man line-up," the remaining members of Teenage Head will complete their scheduled tour dates.
Just as Gord Lewis has always demanded, the show will go on.
The 65-year-old founding guitarist was murdered last week in his apartment. His son Jonathan Lewis, 41, has been charged with second degree murder. It was shocking news that shook the music world in Canada.
But Teenage Head, the pride of Hamilton, will not be silent.
"We had to make a tough decision and decided to move on and do our next shows – to honor our deceased brother and start the healing process."
Fans and the band will be supporting each other on three upcoming dates: August 18 at the Pyramid Cabaret in Winnipeg; August 20 at Rock the River Festival in Saskatoon and Kerrfest in Oakville on September 10.
Content of the article
"Gord would like the band to blow the roof off," said his father, David Lewis. "Frank too. maintain it"
Original vocalist King Frankie (Kerr) Venom died in 2008 at just 51 and with so many requests from fans, the band stuck together. "You have to make them dance!" the family said Gord would tell.
"These songs are Gord's legacy and as long as they are played a little piece of him lives on," his family added.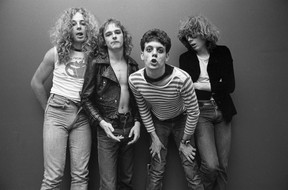 There are so many memories. Teenage Head fans are like a family or a cult with a history dating back 45 years to Westdale High School in Hamilton. But it was that infamous show at Ontario Place on June 2, 1980, Frankie Venom's 24th birthday, that made Canadian rock history.
"I took the metro with my guitar. It was supposed to be just a regular gig," Gord Lewis told me in 2005.
Content of the article
Very early on his arrival, as thousands of fans tried to enter the former Forum stage area designed to accommodate 2,500 seats and 8,000 on the grass mounds, Lewis said they realized they might need a bigger stadium.
KINSELLA: The rock 'n' roll gods now have Teenage Head's Gord Lewis

Founding guitarist of punk band Teenage Head murdered, his son charged

Teenage Head documentary 'deep, real, true and touching'
Toronto Sun Associate editor Kevin Hann told me in 2005 at just 17 that he got there at 11:30 a.m. and the crowds were already pouring in. Once we got to 15,000, security tried to close the doors which made things even worse. Fans were climbing the walls and even trying to swim across the canal to get in. A total of 58 people have been charged.
Content of the article
"It was wild," Kevin said. "It was the most intense gig I've ever seen in my life. You could just feel the tension.
Gord told me they knew it was a big night but not one that would live up to infamy.
RECOMMENDED VIDEO
"We were up there playing," Gord said, adding that they "didn't realize the extent of the problems on the outside."
With the press around this event and incredible music, Teenage Head found themselves heading south and were on their way to the same kind of stardom that The Clash and Sex Pistols enjoyed when tragedy struck. The band's van crashed while leaving a show and Gord broke his back.
"It didn't help the band that I was in the hospital at all," Gord joked, adding that the end result was that instead of being world famous, they became "very well known here, in especially at the Beer Store".
It was old Gord Lewis. Always laugh. Always smiling. Always humble.
"I think it was fate because I often wonder if we had the accident if we would all be here today. I think with all the partying some of us might not not do it," he said.
Some 17 years later, he and Frankie Venom are now gone. But Steve Marshall, Gene Champagne, Dave Desroches and Trent Carr are still there and will hit the road, just as Gord would have wanted.